Spotlight On Festool's Brand New Cordless Table Saw - The CSC SYS 50
Festool's brand new CSC SYS 50 is the precision tablesaw that fits in a Systainer! This cordless saw is loaded with convenient features and precision you'd expect from a large stationary panel saw. Only this saw is compact and so portable, you can carry it with one hand!
Digital blade settings
Blade height, angle, and RPM settings are digitally adjustable and controlled with servo motors for precision cuts. Adjustments are fast, precise, and intuitive. The colour display screen provides clear readings, and units can be switched between imperial and metric. Customizable presets let you quickly adjust the saw to common settings.
This setup is something that you'd normally find on large, stationary panel saws built for production work.
Smooth sliding crosscut table
The Festool CSC SYS 50 features a beautifully smooth sliding table with mitre gauge that allows panels to be crosscut up to 450 millimetres (17-3/4 inches) wide.
CSC SYS 50 mitre gauge slot and clamp slot
The mitre gauge is adjustable from +70 to -70 degrees and saves a lot of head scratching for acute angles. The sliding aluminum fence provides optimal support where it's needed. To facilitate accurate clamps, the sliding table features a second slot for a clamp to hold the workpiece securely in place for the cut.
Sturdy and adjustable high/low rip fence
The 2-position rip fence can be slid forwards or backwards, and the low profile mode allows cuts closer to the blade without removing the guard. The robust fence locks solidly, and is adjustable up to 280 millimetres (11 inches).
Mobility and outfeed support
The accessory cart not only makes moving the saw easy, it provides two convenient work heights and support for long stock. The CSC SYS 50 table saw feet engage with recesses in the surface of the cart so it won't slide, and can be positioned in multiple directions.
Power and capacity
Powered b a powerful and long-lasting EC-TEC brushless motor, the Festool CSC SYS 50 table saw is capable of serious cutting. Cut material up to 48 millimetres (1-7/8 inches) thick with the blade at 0 degrees. With the blade tilted to 45 degrees, the saw cuts up to 34 millimetres (1-11/32 inches).
-10 to 47 degree tablesaw blade tilt
Here's a unique feature. The saw blade tilts from 47 degrees right to 10 degrees left. It's perfect for back-cutting filler strips, scribing, or cutting dovetails. And with digital controls, setting it to 45 degrees, 22.5, or 0 degrees is simple.
Quick-change riving knife - no excuses for safety
Change between the low-profile riving knife or unobtrusive blade guard in seconds. With the Festool CSC SYS 50, there's no excuse not to use a splitter.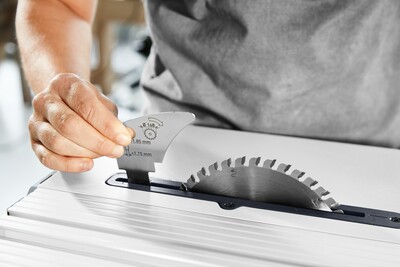 Built-in accessory storage
All the tablesaw accessories store in the underside of the hood that covers and protects the saw when not in use, and allows the saw to stack with other Systainer toolboxes. Indicators with a P indicate the correct positioning and orientation for "parking".
Bag or dust extractor for dust-free work
Dust extraction is excellent with the included dust bag or D 27 millimetre hose. You can also install the Angle Adapter from a track saw to connect a D 36 hose.
Powerful brushless motor is powered by two 18 volt batteries
The powerful brushless EC-TEC motor is powered by two 18 volt Festool batteries (4.0 Ah and up).
Lightweight and portable table saw that goes anywhere
The CSC SYS 50 weights only 45 pounds, and the Systainer hood allows it to integrate with the rest of your stack. It's so light and compact that you can comfortably carry it with just one hand. Or move it, and other Systainers, effortlessly with the mobile stand.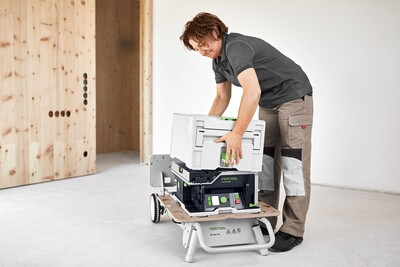 Festool's CSC SYS 50 cordless tablesaw is available in four packages
| | | | |
| --- | --- | --- | --- |
| Package |  CSC SYS 50 Table Saw | UG-CSC-SYS Underframe | 5.0 Ah Energy Set |
| Basic | X | | |
| | X | X | |
| | X | | X |
| | X | X | X |